BABY BOYS SCRAPBOOK


This layout from my baby boys scrapbook is a page I made to celebrate my son's sunny personality. He's now 10 and may appreciate my efforts when he's a little older - or maybe a lot older!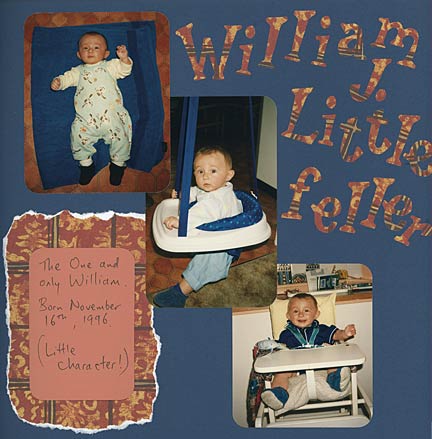 A NAME TO REMEMBER

Often we give nicknames to our babies - only to forget them as they grow up. By immortalising your baby's nickname in your layout, you can embarrass them with it for years to come! Don't rob yourself of that right.


JOURNALING WITH PATTERNED PAPER

No one ever said you could only use your Sissix machine on PLAIN cardstock. I found a great paper from Paper Adventures, which really resonated well with the pattern on our kitchen floor.


DOES MATTING MATTER?

Your photo matting choices - just like your choice of cardstock, patterns or embellishments - should serve the layout as a whole. So with this layout I felt that matting would have added nothing and maybe diluted the impact.


IF YOU EVER NEED INSPIRATION......

I have discovered an excellent resource now for layout ideas - which is a book by Jen Gormley, crammed full of sketched templates for page layouts. I wish I'd found it before I made most of my layouts, but for next time I'll certainly use one of Jen's sketches - especially when I don't have any inspiration (ie. quite often!). You'll see about half way down this page is a great example of how to produce a stunning layout from a line drawn template - and Jen's got 500 of them.




TEAR AWAY

As this is a baby boys scrapbook layout, I wanted to convey William's extrovert nature with a torn paper edge, which I think does echo a free spirit. To keep with the free and informal feel, I wrote my journaling in free hand.



To return from Baby boys scrapbook to the Home Page