BIRTHDAY SCRAPBOOK LAYOUT


I bought this great Birthday scrapbook layout kit by 'Doodlebug', and couldn't wait to have a go. I dug out old photos of my son's 4th birthday to begin my birthday scrapbook layout, and here it is: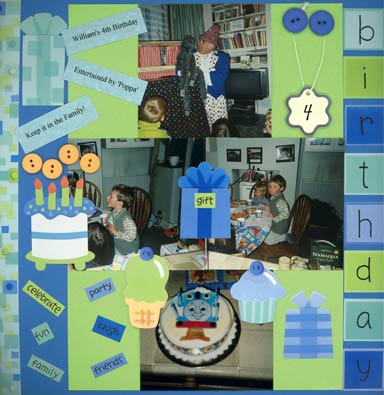 PAGE KITS TO THE RESCUE

Sometimes using an imaginative and colourful page kit can mean that your layout can start building itself. I used Bazzill Basics green and blue cardstock to pick out the page kit colours. A page kit can really help when your photos aren't the greatest!


CAPTURE THE MOMENT WITH JOURNALING

As the Page Kit included some green one word tags with a birthday theme, I tried to mirror that by placing three blue tags of my own around the theme of that unique day, when his grandfather provided the entertainment! (I'm afraid he hasn't got the phonecall since birthday no 6!)Birthday parties can be great 'theming' opportunities themselves - helping me on one occasion to produce a Pirate scrapbook layout.


EVERY BIRTHDAY NEEDS A VIDEO!

Even if it's not your birthday I recommend you treat yourself to what is surely the best video-based scrapbook training guide out there. Many thanks to Stephanie Barnard and the Simply Scrapbooking for making this possible.


HOW ABOUT USING 'CRICUT' FOR YOUR BIRTHDAY SCRAPBOOK LAYOUT?

A lot's being written about the 'Cricut', as well as the Cricut 'Expression', the higher-powered version right now, and most of it is very good. The only recurring moans seem to be about the Design Studio Software.....

i) Although Cricut doesn't require a computer to use, the DS manual does seem to assume more technical knowledge than it might. That can be frustrating for us 'technophobes'.

ii) You can burn through a lot of cardstock while you're 'trial and erroring'!

(iii) Lack of really helpful video tutorial support. I had to search around the web.

Fortunately Brandi Gore, a very experienced Scrapbooker has put together THE manual for using the Design Studio Software both for Cricut and for Cricut Expression - the manual that many people think should have come with the product in the first place. Get yourself a copy and save yourself a pile of frustration!


A BIRTHDAY PRESENT FOR YOURSELF!

I treated myself recently to what I think is a book of excellent value. Not only does it contain lots of page ideas including some great tips on making a birthday scrapbook layout but the author, Maree Galt, has 'thrown in' several other books as well - all written in an idiot-proof style that I find very appealing! Go figure.


3D EMBELLISHMENTS ARE THE ICING ON THE CAKE

I liked the idea of breaking the green-blue domination, so I chose four orange buttons to be the flames of the candles. The page kit also included 'cupcake' motifs, topped by blue buttons that I could mirror with my own 'actual' buttons. Your photos can often give you embellishment ideas.


HAVE YOU EVER HAD 'SCRAPPERS' BLOCK'?!

Every time I think about making a layout I um and ah for ages, not knowing how to start it. I might have some great photos, maybe even some great embellishments but I can't get a handle on the 'big picture' - literally. I am therefore hugely grateful to Jen Gormley's superb book ' 500 Scrapbooking Sketches ', that has a ton of great layout frameworks that bust through my scrapper's block every time! What a lot of time I might have saved. Hey ho.


OTHER BIRTHDAY TREATS

One direction you might consider is cardmaking which although I don't do myself, always makes for a crowded aisle or two at Scrapbooking shows I've been to! If you'd rather buy and receive cards than make them, there are some great ideas for a birthday layout on and offline, as well as cards for all occasions. cards for all occasions.


THOSE LITTLE CHARACTERS!

You might want to get hold of some Sesame Street Scrapbook paper or the odd printable scrapbook sticker with Winnie the Pooh on. Go online and check out some free scrapbooking graphics, as well as digital scrapbook supply (if you're that way inclined) and your next birthday page could be a very special occasion!



To return from Birthday scrapbook layout to Home Page