MILITARY SCRAPBOOKING LAYOUTS



Thankfully, any military scrapbooking layouts I've made feature relatives from many years ago. For other scrapbookers, their military page layouts are very much set in the present.


My page below is a tribute to my grandfather (on the left) who joined up with the Liverpool Pals in the Great War with his cousin (on the right). One returned to a full and happy life of children and grandchildren. The other didn't. His body was never found.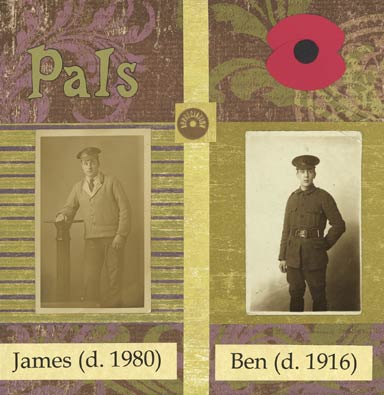 A 'QUIET' PAGE DESIGN


This layout was a stretch for me because my inclination can be to overcrowd a page sometimes and make it too 'noisy'. The main embellishment is of course the poppy - from red and black 'Bazzill Basics' stock. The poppy is I feel an appropriate as well as welcome respite from the dominant military green. The best way to make a poppy is to cut two elliptical shapes and place them overlapping - it works better than cutting sections out of a circle. I tried! The title journaling is from Sissix lettering.


SKETCH TEMPLATES

This pages design is quite simple and I didn't need to do too much mapping out. Sometimes though I really benefit from a sketch drawing to use as a guide and Jen Gormley's excellent '500 Scrapbooking Sketches' is a great help to scrappers like me who keep changing their minds 'mid-layout'. You can see a good example of how she gives life to a line drawn sketch if you scroll about half way down this page

.


A MARK OF RESPECT

The small round central embellishment - which you might not be able to read - says simply 'Appreciation'. This plus the lovely background papers I was given at a Sarah Beaman short workshop at London's 'Stitch and Craft' show. They are from K & C.



To return from Military Scrapbooking layouts to the Home Page