BABY SCRAPBOOK LAYOUT IDEAS


There are just oodles of baby scrapbook layout ideas out there, so indulge yourself with your designs. As far as ideas for baby scrapbook layouts are concerned - the frilly mittens are off!

For my latest attempt here at baby scrapbooking - my son's now 10 (I don't hang about!)- I was keen to use some unusual texture.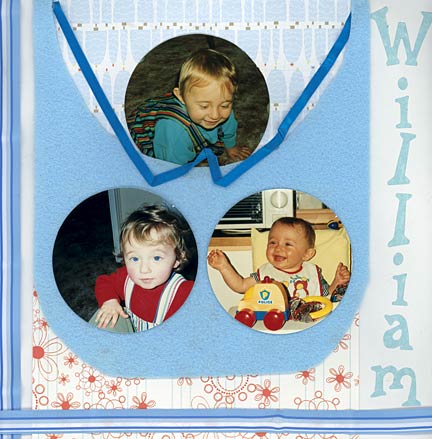 FELT IT

I found some baby blue felt just right for baby scrapbooking at the excellent 'Big Stamp and Scrapbooking Show' at Alexandra Palace, London. This image doesn't do justice to the felt's sparkly finish. I cut out the 'bib' and made a 'W' with the little blue cord. Ahhhh!


HAVE YOU EVER HAD 'SCRAPPERS' BLOCK'?!

Every time I think about making a layout I um and ah for ages, not knowing how to start it. I might have some great photos, maybe even some great embellishments but I can't get a handle on the 'big picture' - literally. I am therefore hugely grateful to Jen Gormley's superb book ' 500 Scrapbooking Sketches ', that has a ton of great layout frameworks that bust through my scrapper's block every time! What a lot of time I might have saved. Hey ho.


PICK OUT THE COLOURS IN THE PHOTOS

I then picked out two Sassafras Lass papers - one with red and one with blue in it - to pick out the red and blue in the photos. Finally I cut out my baby son's name in Sissix letters and ran them haphazardly down the side - 'Baby Blue', of course!


ULTIMATE RESOURCE FOR YOUR BABY SCRAPBOOKING

Let's face it however good a book on scrapbooking is, there's nothing like the impact of an expert like a free baby photography course that could make your future baby photos jaw-droppingly impressive!


BABY SCRAPBOOKING EMBELLISHMENTS

Some of the best baby scrapbook layout ideas I've come across feature a single large photo, simply dripping with embellishments - very evocative of all the baby 'bric-a-brac' our homes are suddenly filled with! Good examples of baby scrapbooking embellishments would be - ribbon, buttons, Sissix tags, and felt.






USING 'EYELINES' IN YOUR PHOTOS

In this layout, you'll notice that William is looking from one photo towards another. This helps a layout's central focus. If the three photos had him looking 'out of layout' all the time, the effect would have been a little 'cold.' Play around with your photo arrangements before adhering and you may find you create totally different moods by swapping them around. You'll create a baby scrapbook album that your child will cherish, (except for when they're about 15).


WHERE CAN YOU FIND GREAT BABY SCRAPBOOK LAYOUT IDEAS?

A good read of great titles like 'Scrapbook Inspirations', or 'Scrapbooking Magazine' in the UK or any one of numerous American equivalents will give you some great ideas. Whether it's a baby boys scrapbook or a baby girls scrapbook that you want to create, just look around and play around with your stash. Your baby son or daughter wouldn't be tentative, would they?!


BABY SCRAPBOOKING ALTERNATIVES

You may want to start scrapbooking poems for babies, which would be a very heartfelt way to document your baby's early life. Another idea would be to make a bathtime scrapbook layout. You could also put together a baby shower idea scrapbook to relive that great social event for your friends and family. Another option would be to create a pregnancy scrapbook layout or two, to record the weeks and months leading to 'showtime!'Or why not try scrapbooking for first tooth. I'm a bit squeamish about teeth so I gave that one the 'body swerve'.



To return from baby scrapbook layout ideas to the Home Page