BABY SCRAPBOOK ALBUM


A baby scrapbook album is a great place to try out your journaling as well as your photography. As baby 'words' are hard to spell, it's up to us to 'invent' words from their wonderful expressions.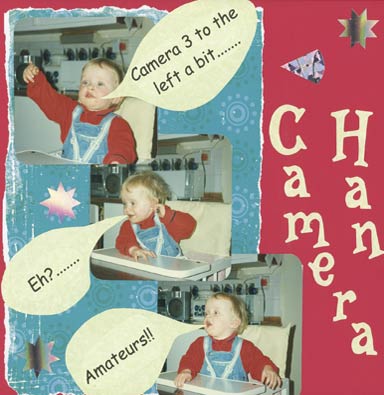 YOU'RE THE DIRECTOR OF YOUR ALBUM

In these picture of my daughter, I've tried to create an artificial sequence of shots - all taken within a few minutes of each other. It won't matter down the road that these photos were taken randomly - the page will bring more enjoyment in years to come if you 'edit' with the your reader in mind. You ARE the director!


LAYOUTS - LIKE SCREENPLAYS - START WITH AN OUTLINE!

For this layout I admit I did no 'template planning' - just an idea for the captions matching Hannah's positions and expressions. If I did this again (not that I'm likely to need another baby scrapbook album now my kids are teens!) I might well take a leaf out of Jen Gormley's excellent '500 Scrapbooking Sketches' and map out a sketch before I start. In fact if you look about half way down this page you'll see a great example of how a line sketch drawing can blosson into a fab layout.


THE 'RULE OF THREE'

Have you noticed that most jokes are based around the number three? Think about it. Number 3 is kind of funny. If you're trying to amuse in your layout (it's YOUR call whether or not I succeeded!) then number three will always work for you.


FONT FOR THE OCCASION

Even though the journaling would cast my daughter Hannah as a very small Steven Spielberg, the font should match the photo content more than matching the journaling content. I deliberately chose the sort of font you'd see on spelling blocks in a nursery.


MATERIALS 'LIST OF CREDITS'

The red 12 x 12 paper is Papermania, as is the ivory-coloured vellum. The blue background paper is by Junkitz, and the 'mirrored' silver card is Bazzill Basics.


A 'BACK CATALOGUE OF BABY LAYOUTS'

I was looking around for a collection of baby scrapbook layouts that wouldn't break the bank but would give you a massive selection. Dawn Stegall's work won 'hands down.'


SISSIX FOR IMPACT

My title journaling is not my best effort at a 'play on words' to be honest! But using bold Sissix lettering makes it look like at least I thought it was funny!



To return from Baby scrapbook album to the Home Page