FAMILY SCRAPBOOKING


Family scrapbooking is something that will bring pleasure to many, including descendants you'll never even meet. So rip those photos out of those boring albums and start family scrapbooking today!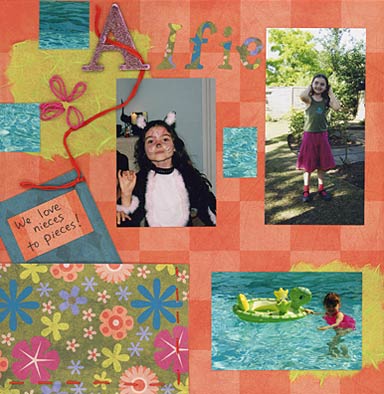 CREDIT WHERE CREDIT'S DUE

For this layout I'm grateful to Sarah Beaman, authoress of the excellent 'The Complete Guide to Scrapbooking' who was running a workshop at London's 'Stitch and Craft Show' at Olympia. She provided the attractive 'chessboard' paper by 'Imaginesce' and showed us how to sew on the 'pouch' for the 'bookmark' embellishment. She was also very patient with my remedial sewing skills!


CROPPING TO MIRROR PAPER DESIGNS

This background paper made me want to cut small swimming pool sections and dot them around. I'd rather run out of room to do this too extensively, but I think it adds a little 'je ne sais quoi'.


THE BEST VIDEO FOR FAMILY SCRAPBOOKING

Let's face it however good a book on scrapbooking is, there's nothing like the impact of a video teaching us step by step how to make great family layouts. This awesome scrapbooking video guide
from Stephanie Barnard and Simply Scrapbooking is well worth checking out - especially with all the free bonuses included.


HAVE YOU EVER HAD 'SCRAPPERS' BLOCK'?!

Every time I think about making a layout I um and ah for ages, not knowing how to start it. I might have some great photos, maybe even some great embellishments but I can't get a handle on the 'big picture' - literally. I am therefore hugely grateful to Jen Gormley's superb book ' 500 Scrapbooking Sketches ', that has a ton of great layout frameworks that bust through my scrapper's block every time! What a lot of time I might have saved. Hey ho.


NOT SEW EASY

The top left area sees another sewing design which is a flower motif, best explained - along with many other great ideas for Family scrapbooking - in Sarah's book. I am determined to get better and certainly quicker at sewing because it's such a good way to bring texture and visual stimulation to a layout.



HOW ABOUT USING 'CRICUT' FOR YOUR FAMILY SCRAPBOOK LAYOUT?

A lot's being written about the 'Cricut', as well as the Cricut 'Expression', the higher-powered version right now, and most of it is very good. The only recurring moans seem to be about the Design Studio Software.....

i) Although Cricut doesn't require a computer to use, the DS manual does seem to assume more technical knowledge than it might. That can be frustrating for us 'technophobes'.

ii) You can burn through a lot of cardstock while you're 'trial and erroring'!

(iii) Lack of really helpful video tutorial support. I had to search around the web.

Fortunately Brandi Gore, a very experienced Scrapbooker has put together THE manual for using the Design Studio Software both for Cricut and for Cricut Expression - the manual that many people think should have come with the product in the first place. Get yourself a copy and save yourself a pile of frustration!


STRINGS ATTACHED

I used a single string to attach my 'bookmark' to the 'A' embellishment in my layout. A twisted cord of two contrasting colours would have looked nicer I'll admit. I got lazy!


JOURNAL WITH SCRAPBOOK QUOTES

You could hardly call 'I love nieces to pieces' a classic quote - more a misquote paying homage to Mr Jinx. On your family layouts though, you could choose from a number of excellent scrapbook quotes which could really add some character to your page.


SOMEWHERE THAT'S GREEN

I included two 'splashes' of green mulberry paper to mirror the green in two of the photos. As for the designs of the floral cardstock, the 'bookmark' and the 'A' embellishment, I was given them at the workshop so I don't know who makes them. I'll keep on the lookout!


FOR ALL YOUR FAMILY'S SCRAPPERS

I've looked at a few books and e-books about scrapbooking and for lots of colourful suggestions, a font that's easy on the eye, and a relaxed writing style, then Maree Galt's e-book takes a lot of beating for easy and enjoyable family scrapbooking .


CELEBRATING THE FAMILY

Themed scrapbooks can be a perfect way to immortalise the people or indeed animals closest to you. Mothers day scrapbooking will always find an appreciative audience. Personally I think anything that enriches family life and celebrates family times has got to be a good idea. Why not compile a generations scrapbook album for posterity? I couldn't resist making a cat scrapbook layout for our great whale of a moggy! I also indulged in a little scrapbooking for grandma - that's my children's grandma, not mine!


DIGITAL FAMILY SCRAPBOOKING

AS you've probably realised, the youngest member of your family is probably the most comfortable on the computer. So if you do want to try digital scrapbooking with or without your littlun's help - then this membership site has got it all.


SCRAPBOOKING FAMILY MOMENTS, PASTIMES & 'PARTY PIECES'

Take the lid off your imagination and you could scrap all sorts of family treaures. I personally like music scrapbooking as it's a lifelong interest of mine. I have even tried circus scrapbooking to archive my interest in juggling. I would urge you to get your family involved in your scrapping passion - who knows, even Dad! You can enjoy some high quality family time if you can create scrapbooking projects with kids.
To return from Family scrapbooking to the Home Page