MUSIC SCRAPBOOKING


A music scrapbooking layout can create all sorts of emotions in future years. Either 'so that's where it all started' or 'so why did you give that up?!' My layout here gave me a chance to indulge in something I'd always done at school (instead of paying attention) - drawing drum kits.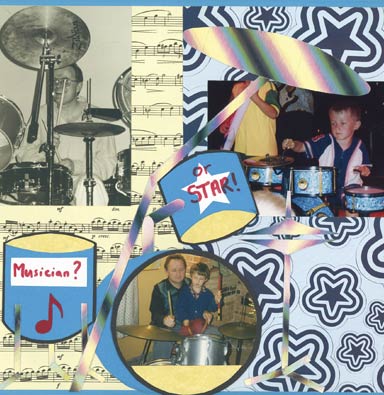 WHAT DO YOU CALL SOMEONE WHO HANGS OUT WITH MUSICIANS?

Yeah, I know, a drummer! Now that's out of the way, this music layout features my son William and I indulging in one of the world's noisiest pastimes. The black and white photo - where I seem to be hitting myself in the eye with a drumstick - was taken at my 40th birthday party. They HAD invented colour at the time.


BACKGROUND PAPERS: A BIG HIT

The idea for this page came when I returned from London's 'Big Stamp and Scrapbook Show at Alexandra Palace. I'd picked up the music manuscript paper - can't remember where but will find out! - and when I saw it next to the Cherry Arte 'star' design, I just had to scrabble around for those drumming photos.


HITTING THE RIGHT NOTE WITH A SKETCH TEMPLATE

I'd have to admit this layout was short on pre-planning. I guess you figured! If I was making ths layout today I would definitely browse over Jen Gormley's '500 Scrapbooking Sketches' . In it she uses simple sketch drawings as templates and produces awesome layouts from them.

In fact if you scroll about half way down this page you'll see an example of how her templates can become layouts. Of course you can use the same template to produce many different themed pages.




'KIT PAGE'

The bass drum was a circular-cropped photo just waiting to happen. The rest of the 'kit', made up of Bazzill blue, white, black and silver cardstock, was a real throwback to doodling drum kits on my notebooks at school - but being able to take much more care - AND not risk being told off for not paying attention!



To return from Music scrapbooking to the Home Page