HALLOWEEN PAGE SCRAPBOOK LAYOUT


For this Halloween Page Scrapbook Layout I did the unthinkable - I put aside photos of my children and dug one out of myself.

You know that feeling when you've committed to a Halloween party, and October 31st comes round and you'd sooner just have a night in? You can see that feeling in my face if you look hard enough.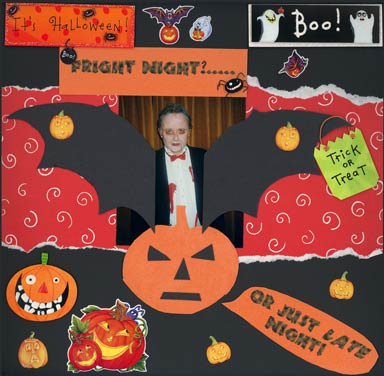 COOL FONTS!

For the 'spooky' font for this Halloween layout, I went for the aptly named 'Zombie' font. Anything written in this font would look scary, even your own phone number.



HALLOWEEN SKETCHES?

I've seen a few in my time. The sketches I mean though are templates that can blossom into a great page design. I couldn't see how a line drawing or plan could have a big impact on the final layout - but that was before I saw '500 Scrapbooking Sketches' . If you look half way down this page you'll see what I mean.


THE 'NOISE' OF HALLOWEEN

In this Halloween Page scrapbook layout I wanted to create a feeling of being 'overwhelmed' by Halloween. So I used several stick-on embellishments by Ellen Krans, a pair of rather fetching batwings in 'Bazzill Basics' black cardstock, and a torn strip of red Papermania designed paper to break the black/orange domination.


TO TEAR OR NOT TO TEAR

I went for the torn paper edge for this Halloween layout, because it has a kind of shock value. Tearing the paper's edges can create other moods too, like a free spirit, surprise, or 'haphazardness' if that's a word.


THE BEST VIDEO FOR HALLOWEEN SCRAPBOOKING

Let's face it however good a book on scrapbooking is, there's nothing like the impact of a video teaching us step by step how to make great Halloween layouts. This awesome Video scrapbooking guide from Stephanie Barnard and Simply Scrapbooking is well worth checking out - especially with all the free bonuses included.


OTHER HALLOWEEN LAYOUT IDEAS

A couple of ideas for layouts on this theme would be to put together a pumpkin patch scrapbook layout. Another that springs to mind would be a trick or treat scrapbook layout. On top of that you may even want to feature your kids in costume in a kind or witch or wizard layout.


EMBELLISHING YOUR HALLOWEEN LAYOUT

A Halloween Page Scrapbook layout will always look good on a black cardstock background, as so many Halloween embellishments are brightly coloured - orange in particular.
Always go for 'stick-on' or 'glue-on' transfers though, as rub-ons look very dull on black cardstock. I'd encourage you to do some serious scrapbook sticker hunting for your Halloween layout. The world is filled with more Halloween Scrapbook supplies than you might think.


ABOVE ALL HAVE FUN!

Let's face it - Halloween only comes round once a year...........!



To return from Halloween Page Scrapbook layout to the Home Page