WINTER SCRAPBOOK LAYOUT
A Winter scrapbook layout can be great fun to put together. You could scrap a snowman, as I've done here, or a ski holiday, or maybe the kids all wrapped up in brightly-coloured scarves and hats.


COLOURS FOR A WINTER SCRAPBOOK LAYOUT

There are no hard and fast rules to colours but blues, greens and purples do create a wintry atmosphere. I'm also keen on silver. I was tempted to pick out the orange in my children's coats by using some orange page accents - but it became just another thing Dad didn't get round to.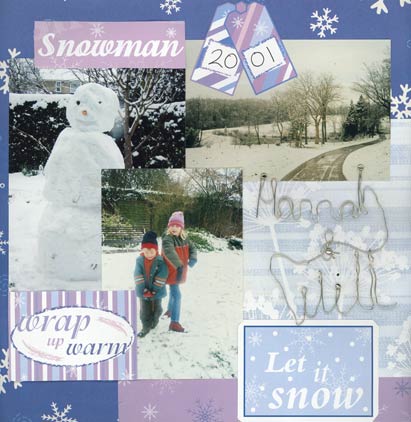 WIRE EMBELLISHMENT

I wanted to try 'journaling with wire' and this is my attempt. Some letters are easier than others but apart from literally not dotting my 'i' (the brad fell out as I scanned it!) I think it works OK. Just make sure to use wire from a craft source - as opposed to an industrial one - and have a go.


PAGE KITS FOR WINTER SCRAPBOOKING

On my layout I made full use of an attractive Page Kit from Sassafras Lass. There are some great page kits around to help you with your winter layout, and they can give you a great head start, especially if your photography skills (like mine) could be described as 'work in progress.'



HOW ABOUT USING 'CRICUT' FOR YOUR WINTER SCRAPBOOK LAYOUT?

A lot's being written about the 'Cricut', as well as the Cricut 'Expression', the higher-powered version right now, and most of it is very good. The only recurring moans seem to be about the Design Studio Software.....

i) Although Cricut doesn't require a computer to use, the DS manual does seem to assume more technical knowledge than it might. That can be frustrating for us 'technophobes'.

ii) You can burn through a lot of cardstock while you're 'trial and erroring'!

(iii) Lack of really helpful video tutorial support. I had to search around the web.

Fortunately Brandi Gore, a very experienced Scrapbooker has put together THE manual for using the Design Studio Software both for Cricut and for Cricut Expression - the manual that many people think should have come with the product in the first place. Get yourself a copy and save yourself a pile of frustration!



WINTER: A GREAT TIME FOR SCRAPBOOKING

As the nights draw in, you may find you've more time for 'stash action'. Aside from scrapbooking there are many other interesting arts and crafts you may want to turn your hand to. In fact the unbelievably wet summer of 2007 may go down in history as the most productive ever for UK scrappers!


OTHER WINTER SCRAPBOOK LAYOUT IDEAS

An embellishment that looks really good on a winter layout is using a number of transparent dome stickers. They give the impression of water droplets. If stuck on parts of your photos they can even create interesting light effects (is it refraction?!) and artistic 'distortions' of the photo image underneath.

Sequins are another great embellishment for winter scrapbooking - but don't even think of sticking them in a straight line. They never look straight!

Stick-ons, rub-ons and stencils will all enhance your winter scrapbook layout, though be careful not to 'rub on' more transfers than you meant to!


WHY STOP AT WINTER?

If winter scrapbooking has got the old creative juices flowing, then a Spring scrapbook layout must surely follow. And when Spring is in the air, you may just as well try your hand at an Easter scrapbook layout . An Autumn scrapbook layout will have you diving for your 'autumnal' cardstock and papers in your 'stash', and your embellishments of course. Before you know it you'll be creating a Summer scrapbook layout and reaching for that pile of unscrappped holiday snaps you brought back.


DIGITAL SCRAPBOOK? SNOW PROBLEM!

If you are about to 'go digital' with your scrapbooking or you're there already, then I've found this membership site to have pretty much 'covered the bases' for anything you'd need for great digital scrapbooking.


WHY NOT GO 'FESTIVE'?

If you're enjoying your winter scrapbooking, why not put together a Christmas scrapbook layout ? Now, depending on where you live, 'White Christmas' is either something special, something commonplace, or just an old film they keep showing on TV. However, Christmas Card scrapbooking may appeal to you. The net is a 'grotto' of good ideas. Have fun!



To return from Winter Scrapbook Layout to the Home Page