SUMMER SCRAPBOOK LAYOUT


A vibrant summer scrapbook layout will hold your relatives' attention over a photo album any day! This summer vacation scrapbook page is all about messing around in a pool....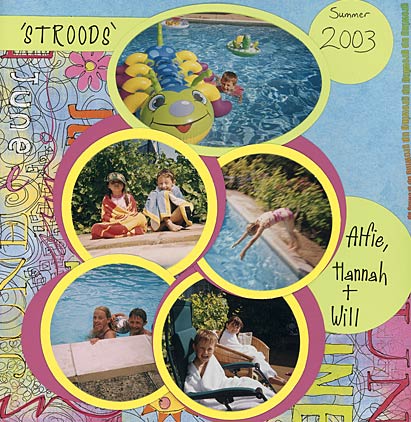 AN 'UNCONVENTIONAL' FORMAT

This layout was all about recreating an inflatable caterpillar. You can't say that about many layouts. So I 'committed' to this idea in my cropping and matting. I think the outcome is fun - if a bit chaotic!




MATTING TO MATCH

That caterpillar has yellow legs and pink feet so I thought the matting could be the same. Also, matting doesn't have to be symmetrical. Unconventional matting can be a good way to informalise a layout and make it more fun.


CROP CIRCLES

I went for circular cropping of the photos with a large oval shape for the photo in 'head' position. Once you've decided to 'echo' your photos in your layout - go the whole nine yards!


CLASSY PAPER DESIGN TO THE RESCUE

I really like this Karen Foster design paper and I was determined to fit it in to my crowded layout. I love the 'doodle' designs she does - she deserved more than an inflatable caterpillar.


SUMMER LAYOUT IDEAS

A good summer layout doesn't need to be about vacations - it can be a celebration of summer flowers - even of your own back yard. You can find summer page kits of various themes and download free printable scrapbook pages. There is of course a lot of digital scrapbook supply available to you as well.



To return from Summer scrapbook layout to the Home Page