PIRATE SCRAPBOOK LAYOUT
Well 'shiver me timbers', this pirate scrapbook layout 'pushed the boat out'. I decided my photos would benefit from a 'boarding party' of embellishments!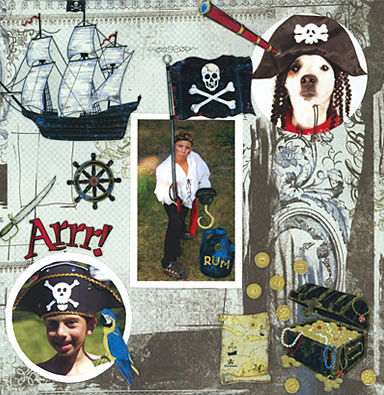 PHOTOS AND EMBELLISHMENTS MEET

Whether this layout works I don't know but I felt like a bit of an experiment. These two little fellas are not carrying a parrot on his shoulder or about to break into a flagon of rum with his hook. It can be fun to doctor your photos at times for effect. Once you start on this road you can end up taking it a lot further than parrots!


SKETCH TEMPLATES ARE YOUR TREASURE MAP, ME HEARTIES! AARRRH!

That's enough Captain Barbosa. Since making this layout, I have discovered a great tool for saving time, avoiding changing my mind during layouts, and producing better pages. Jen Gormley's '500 Scrapbooking Pages' is a dream for an indecisive scrapper like me. She is able to produce stunning layouts from simple line drawings - templates we can use again and again. In fact if you scroll about half way down this page you'll see an example of what I mean.




SINISTER BACKGROUND PAPER

I found this spooky 12 x 12 at the 'Big Stamp and Scrapbooking Show' in London. It reminded me of the horror film 'The Fog', when those dead pirates come to life in the fog once a year. It goes by the rather unspooky name of 'Cabernet' from the Periphery range by Basic Grey.


EMBELLISHMENTS 'TO DIE FOR'

These stick-on transfers by Sandylion - with the unlikely name of 'Collection de Pirates (honest!) - are a great addition to any pirate layout, and certainly were for mine.


PIRATES IS KIDS STUFF

A child's birthday party is hopefully the only time you'll come across pirate costumes. Adults putting on the gear and waving cutlasses as each other is scary on so many levels.


To return from Pirate scrapbook layout to the Home Page