BASEBALL SCRAPBOOK LAYOUT PAGES


Baseball scrapbook layout pages might not be a UK scrapper's first thought, but if you've relatives 'stateside', then you just gotta scrap those 'Lil Leaguers!' I have not yet met my lil' relatives but hopefully they'll look at this site and demand to know who's responsible!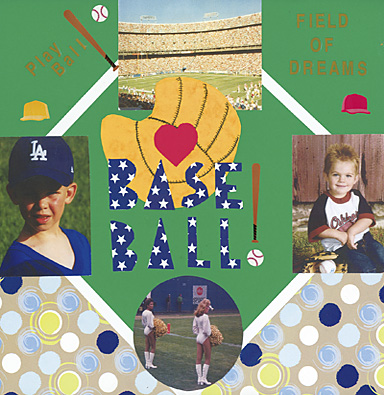 FIRST BASE - PHOTOS

My aunt kindly sent me these photos of two very cute fellas. I was pleasantly surprised to receive a photo of cheerleaders included in the collection! I was going to build the layout round them but thought better of it.


SECOND BASE - SCRAPBOOK PAPERS

I was pleased to find two papers from Cherry Arte which were ideal for this layout: The 'stars and stripes' design for the central journaling feature, and the spotted paper - which I chose to symbolise crowds of sports fans at a game.


THIRD BASE - STICK-ON EMBELLISHMENTS

Baseball layouts are much the poorer for no hats, bats and balls. I got these stick-ons from Stickpotamus, and I found that a bat and ball also works great as an exclamation mark. I then used Gold Letraset for my rather obvious baseball 'soundbite' journaling!


BACK TO THE DRAWING BOARD, GUYS!

Although I did plan this baseball scrapbook layout around the 'in-field' (hope I've got that jargon right), I would have benefitted from Jen Gormley's book '500 Scrapbooking Sketches' , which contains some great templates to help us map out our page design before we start. Half way down this page you'll see a very good example of how a line drawing can 'morph' into a great layout.


HOME RUN!


The baseball field was a good starting off point for this layout, reminding me of that Abbot and Costello scene ('Who's on first? No Watt's on first, Hoo's on second etc etc) I finished it off with a 'catcher's mitt' from Papermania cardstock (see I do know a LITTLE about baseball having been to the Houston Astrodome in '84) and a black journaling pen for the stitching. I also found a great site for 'genning' up on Baseball, a sport I used to know nothing about. I even found a place to get 'One of a kind' hand painted baseballs

of your favorite famous baseball players past and present.



To return from Baseball scrapbook layout pages to the Home Page