HAWAII SCRAPBOOK LAYOUT


My Hawaii scrapbook layout features my brother and my niece on one of their many exotic trips. It was certainly an excuse to dig out some of my 'exotic stash' - such as it exists.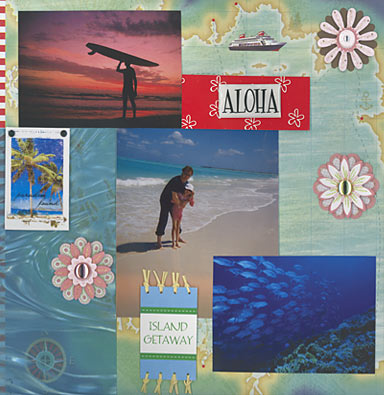 TYPICALLLY TROPICAL

This 12 x 12 paper by Carol Wilson Fine Arts I picked up at the Big Stamp and Scrapbooking Show' in London's Alexandra Palace. I loved the cruise ship motif and the paper is so attractive I kind of wish I'd covered up a bit less of it.


GOT TO HAND IT TO THE GERMANS

At the same show I also stumbled across that lovely turquoise 'marbled' plastic card that I've stuck in the bottom left hand corner. I was told it was German made, but the guy couldn't tell me who the supplier is. I'm still trying to find out coz I want some more - still the show will be here again in March. (Bet you thought I was going to mention German towels on sunbeds. I'm far too PC to refer to that!)


SKETCH TEMPLATES

This page had no layout plan at all, but I do that less these days. I stumbled across Jen Gormley's very helpful '500 Scrapbooking Sketches' which is really useful for people who start layouts with no idea of the final 'look', or like me who change theire minds a lot during its creation. If you look at this page about half way down, you'll see a good example of how a simple line drawn sketch can become a fab layout.


SAY IT WITH FLOWERS

I used some flower embellishments by K & C - 'Marcella' range - because we always associate Hawaii with seriously colourful foliage. The other embellishments are from Memory Big Ideas.




A SPECK ON THE SAND

If I was making this layout again I would definitely use a blow up of the central image. However nice some of the accents, a good pivotal photo would have have really finished it off. But I was pushed for time in getting this layout off to the printers and as we know time and tide wait for no man etc!



To return from Hawaii scrapbook layout to the Home Page