NEW YORK SCRAPBOOK


If you can't make a whole New York scrapbook from 3 days in the 'Big Apple' - then you weren't trying hard enough! The only challenge I had in New York was being able to fit the images into a frame - I got the bottom half of some buildings and the top half of the rest!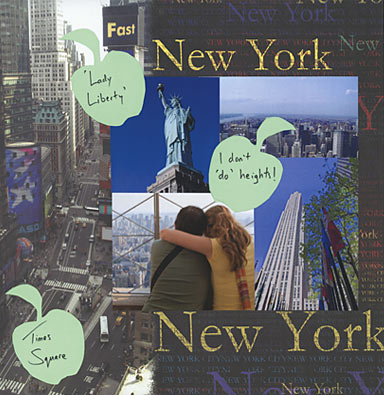 ONE BUSY BACKGROUND!

I must confess that when I saw this 'Creative Imaginations' 12 x 12, with this amazing design - Danielle Johnson's 'Art Warehouse' - I took the easy option. Sometimes a paper is just so darned good I don't want to spoil it with my rudimentary design skills!


HOW D'YA LIKE THEM APPLES?

Again, because of the detail in the paper design, I was reluctant to splash journaling cardstock all over it - so I just went with three journaling 'apples' with minimal words. It's true - I don't do heights. At the top of the Empire State I was skulking in that little shop up there - though I'd have drawn less attention to myself if I'd stopped whimpering.


PHOTO BLOCK

Because Manhattan has this regimented grid system throughout most of it, I went for a block of photographs to hopefully pay homage to that 'matrix' architecture. I've no quibble with that grid, by the way. It's so much easier to navigate than London (even if harder to find a decent cup of tea!)


THEY DIDN'T BUILD NEW YORK WITHOUT A PLAN!

I'd never really used a template before, and I didn't for this layout (don't say it!), but nowadays I'm very likely to open up Jen Gormley's excellent '500 Scrapbooking Sketches' , and pick a template to work with. She is great at bringing simple line drawings to life and she gives us a good example if you'd like to scroll about half way down this page

.


SO GOOD THEY NAMED IT TWICE!

A New York Scrapbook can contain all sorts of themes within a theme. You could feature Central Park, Broadway, Times Square, South Street Seaport, yellow cabs, the Village, even Grand Central with it's ceiling laser show! My offering is little more than a taster - of sweet rather than bitter apples.



To return from New York scrapbook to the Home Page