SCRAPBOOK EMBOSSING

Scrapbook embossing is a great way to bring texture to your pages and create a 'classy' feel to your layout. If you're already using rubber stamps then scrapbook embossing is the next natural step. These are the basic steps you want to take:


Choose some paper or cardstock that you'd like to create an embossed image on.

Take a rubber stamp to create your image - unless you want to emboss some handwritten journaling. That's what I did on this Venice layout:-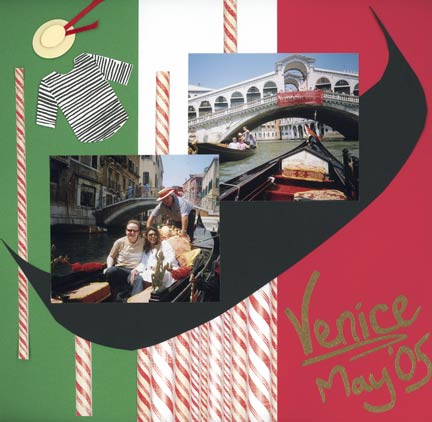 I used gold embossing powder for this title journaling. The web image makes it look brown!

Take your embossing powder
Whatever colour you like.

Place your stamp in an ink pad, or use an embossing marker if you're embossing your journaling.

Reach for your heat source.
For this you could improvise with an iron, but a dedicated heat embossing tool will give you more joy if you're going to do a lot of scrapbook embossing! I wouldn't suggest a hair dryer - as it will blow all your powder away, including the contents of the pot you poured it from. Sneezing is a bit of a no-no also.

Put a 'catch' tray underneath your paper. Your stock of embossing powder will last a lot longer if you catch all that excess powder that falls off your image. Well worth doing.




WATCH THE POWDER MELT AS IF BY MAGIC!

You'll be very happy with the results. Just be patient until the powder begins to change colour. Then you know it's melting into place. Don't keep heating after that though or the paper might crinkle.


CAUTION!

This is a biggie. Don't let your heat source anywhere near your photos! The safest bet is to stick your photos down after embossing. If that's inconvenient, just take great care to cover and protect your photos from the 'line of fire'. If you're ready to take embossing a step further then Scrapbook Papers And More Scrapbook Papers and More is a good resource for teaching you how to make custom "raised" print and images using your computer.


INK PAD FOOTNOTE

It's worth using special embossing inks, as they dry slowly and evenly. But virtually any ink will adhere to the powder. You may have to work a little more quickly, that's all. Dedicated embossing inks are also clear in colour so they won't tinge the colour of your powder. Just make sure the rubber stamp image is good and wet and the ink is spread evenly over all the raised parts of the stamp that you want to see on your page. Embossing marker pens are ideal if your embossing idea is similar to mine and you want to emboss your page title. As with all aspects of scrapbooking, scrapbook embossing is simply another way to have fun as you bring your layouts to life.



To return from Scrapbook Embossing to the Home Page