SCRAPBOOK SKETCHES


Why use scrapbook sketches at all? Isn't that just more work? That would have been my question recently, but not now. Sketches are not only a great time-saver but the results can be truly heart-warming.

Before discovering sketches I would find myself changing my mind about my layout several times, and ending up with something of a mish-mash. (A couple of those are on this site – wouldn't dream of telling you which though!)


When I have sketched out a plan, I've always ended up happier with the result, like in this Venice page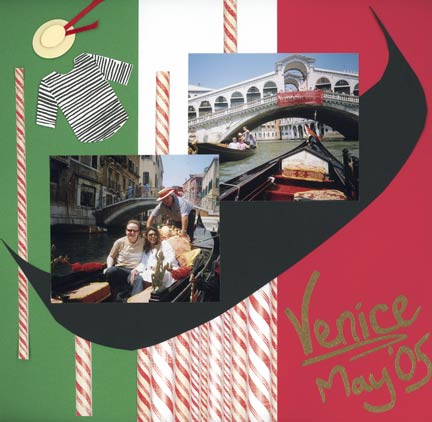 and my 'Power Shower' page from Goa.


There is a very good selection of free scrapbook sketches on this excellent site.

Yes, the sketch does take some thought and some time, but what that means is that when you're creating the actual layout, ALL you need to think about is photos and the colours of accents and embellishments – NOT 'WHERE DO I STICK IT ALL?!'


Another good idea is to cut out some templates to correct size, so that you can move them around your white 12 x 12 and draw round them to make your sketch. Better that than measuring everything to scale with a ruler every time!


Here's a good basic stock of templates that you could have 'at the ready' in thick non-white cardstock:

• 2 – 12" x 12" cardstock sheets
• 2 – 2" x 12" cardstock strips
• 2 – 4" x 12" cardstock strips
• 1 – 5" x 7" mat (actual size 5.25" x 7.25")
• 1 – 5" x 7" block (use for picture)
• 2 – 4" x 6" mats (actual size 4.25" x 6.25")
• 2 – 4" x 6" blocks (use for pictures)
• 3 – 3.5" x 3.5" blocks (use for pictures)


Let's be honest - you wouldn't build anything without a plan. Sometimes it's hard enough WITH a plan. (You should see me with self-constructed furniture!). Sketches are just our blueprint so indecision and doubt don't spoil the fun of creating.

By far the best book I've found on this discipline specifically is '500 Scrapbooking Sketches'

by Jen Gormley, probably the definitive authority on scrapbook sketches at the moment.

You could 'pre-make' a number of sketches, using your cardstock templates, and know that every time you 'need' to scrap – there's a good sketch just waiting for you to bring it to life.

Happy sketching!



To Return from Scrapbook Sketches to the Home Page