SEAWORLD SCRAPBOOK LAYOUT
For this Seaworld scrapbook layout, I had to fly in the face of that well known adage that 'blue and green should never be seen.' Lucky they don't say the same thing about dolphins and killer whales!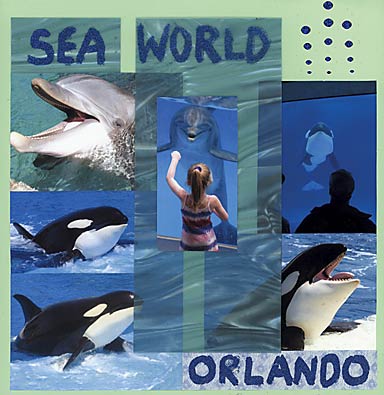 WATER COLOUR

This mystery water effect plastic card I bought at London's Big Stamp and Scrapbooking Show was the inspiration for this layout - more than the photos if I'm honest. If you recognise the manufacturer, PLEASE drop me an e-mail on info@themed-scrapbook-idea.com. I am now officially 'out of stock' and I could do with some more. All I know is it's from Germany.


THE PERFECT 'SEAWORLD HOLIDAY VIDEO' FOR SCRAPBOOKERS!

I don't know about you but although there are some great scrapbooking books around, a picture does paint a thousand words - and a moving picture probably paints a million! The Simply Scrapbooking Video Guide has got to be the most user-friendly scrappers' aid ever created. You'll find more about this amazing Scrapbookers Video Guide here.


ALL THAT GLITTERS

Boy, this can be a messy business! Make sure you've got cardstock underneath your 12 x 12 so you can capture all the glitter that you'd otherwise be vacuuming up later! I just wrote my letters freehand (NO - really?!) with my Zig pen and tipped on the Glue Dots glitter.



HOW ABOUT USING 'CRICUT' FOR YOUR SEAWORLD SCRAPBOOK LAYOUT?

A lot's being written about the 'Cricut', as well as the Cricut 'Expression', the higher-powered version right now, and most of it is very good. The only recurring moans seem to be about the Design Studio Software.....

i) Although Cricut doesn't require a computer to use, the DS manual does seem to assume more technical knowledge than it might. That can be frustrating for us 'technophobes'.

ii) You can burn through a lot of cardstock while you're 'trial and erroring'!

(iii) Lack of really helpful video tutorial support. I had to search around the web.

Fortunately Brandi Gore, a very experienced Scrapbooker has put together THE manual for using the Design Studio Software both for 'Cricut' and for 'Cricut Expression' - the manual that many people think should have come with the product in the first place. Get yourself a copy and save yourself a pile of frustration!


BUBBLE TROUBLE

I spent a long time looking for 'bubbles' I could use for this seaworld layout, and what I eventually found were these 'peel off' blue stickers from a Dutch supplier called Peel Off. (How DO they come up with these names?).



To return from Seaworld scrapbook layout to the Home Page