THAILAND SCRAPBOOKING


Thailand scrapbooking can take you into a world of temples, beaches, and plates of rather delectable food. I went the more 'scenic route' in this particular layout......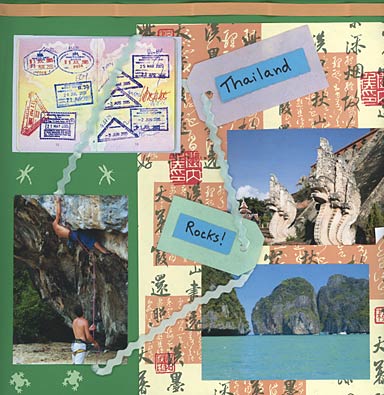 'THAI' IT ALL TOGETHER (Sorry!)

On this layout I tied some HMA Creative ribbon through and across my images - the photos of Thailand plus one seriously stamped passport. I also dug out a couple of EK Success punches - 'dragonfly' and 'frog' because I'd been wondering where to use them.




ORIENTAL PAPER

I picked up this rather attractive oriental paper at London's Big Stamp and Scrapbooking Show. To my shame I didn't remember the supplier's name as I was emptying my over-filled bag of stash on the kitchen table. Chatterbox do some oriental paper, as do others but when I revisit the show in March, I will be on the lookout for the same design.


BAD PUNS AND A WORSE JOKE

I realise that 'Thailand Rocks!' is a play on words that you might tire of. But maybe your future generations of family will all see you as the fount of wit in their ancestry! By the way I made a Chinese layout the other day. An hour later I felt like making another one...............



To return from Thailand scrapbooking to the Home Page