WEDDING SCRAPBOOK


My wedding scrapbook was a very personal gift for my wife, which got me into this scrapbooking thing before I realised it wasn't a guy thing. Too late!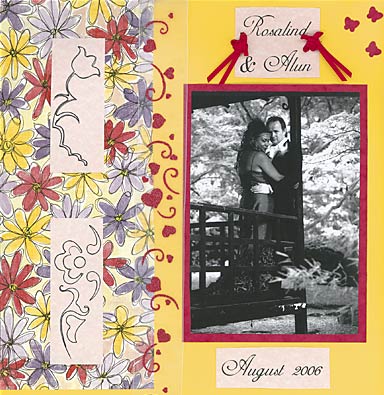 (Photography by Graham Copeland-Cale - Surrey, UK - 2006)


THE JOY OF BLACK AND WHITE

A black and white photgraph can be a subtle, sophisticated focal point in a colourful layout. I used a bright floral Karen Foster paper which picked out the colour of the gold Papermania cardstock as well as the red of Rosalind's dress. (Trust me - it was a fabulous red!)




A 'CLASSY' FONT

My favourite 'classy' font is 'Adine Kirnberg' by David Rakowski, which I used again for this layout, printed on pink vellum. I also used pink vellum and a black journaling pen for the flower stencils. The ribbon is from Essential Craft, and I cut the butterflies with a Craft Planet punch.


A SCRAPBOOK ALBUM FOR YOUR WEDDING

Most people would opt for white, ivory or maybe silver, although I bought a deep red Papermania 12 x 12 album. I like the small square window on the front cover where you can place a special photo or illustration. Your local scrap shop will have a selection but nothing like the enormous range available on the web. If you don't mind not 'feeling the quality' before you buy, just 'google' wedding scrapbook albums and you'll be fine.


WHAT TO INCLUDE IN YOUR SCRAPBOOK?

Well, I guess you'll have had a professional photgrapher anyway, but he's not going to crop, journal and embellish for you. So on one page I cut out some of the guests from various photos that were taken and made a collage out of them. I also had layouts featuring our honeymoon, and a few light-hearted pages as well, one of which appears elsewhere on this site but I'll gladly share with you here......






I wish you all the best with your scrapbook. It will be looked at more frequently than your professionally-made album. Take my word for it!



To return from Wedding scrapbook to the Home Page