SCRAPBOOKING BORDERS



Whether to use scrapbooking borders or not is quite a current topic. I'd be exaggerating if I said it was dividing the world, but a number of scrappers these days are producing layouts with no borders at all, and don't actually 'believe' in them.


Let's ignore those mavericks for a moment, because you can always 'NOT' make scrapbook borders. I was thinking of creating a page with basic instructions on how NOT to make them! Here is a list though of different ways you CAN create a border for your layouts…………………


Scrapbooking Border Basics:-

1.
Draw a border yourself with your own fair hand. Just grab an acid-free pen and go to work 'free-hand' down one side of your page. You can go for a basic line drawing or you can 'fill in the blanks' with colour that matched your layout's 'look and feel.'

2.Use a border template, which you can get in craft stores or you can find some online that you can then print out from your computer. As with free hand, make sure you use an acid-free pen as you begin tracing the borders directly on to your background paper or accent.

3.
Find paper that you like – that 'resonates' with your photo/s and/or your theme and adhere it with acid and lignin-free glue or archiving tape. On this wedding scrapbook I got so carried away with my border that I nearly didn't have space for my photo!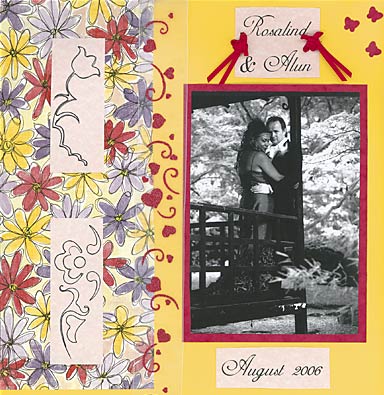 4.
Get a bit creative and cut out pictures from magazines, although in the long term the acid content of some magazine print might come back to bite you. You can find pictures that you think could make good scrapbooking page borders and then archive them until you're making a layout when you can use them.

5.
Use stick-ons to embellish your borders. Page kits can be great for this, as the stickers will automatically carry the theme and colour scheme of your layout. I used a kit like this on a birthday scrapbook layout to scrap my 4 year old son's birthday, when his grandfather literally acted the clown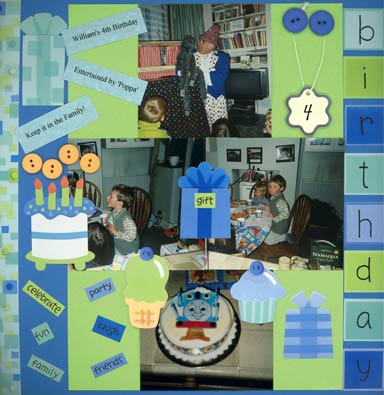 BORDER CONTROL

This is the best page I've found recently for showing you graphic ways of creating great scrapbooking borders

.

Whether you dispense with borders completely or run with any of the options here, always remember that your border is meant to 'serve' your overall layout – NOT the other way round! Enjoy.



To return from Scrapbooking Borders to the Home Page